Sziasztok drágáim! Ebben a posztban azokat a frissen megjelent idegen nyelvű könyveket találhatjátok meg, amiket a Goodreads-ről hozok nektek: van New Adult, Young Adult, és persze Fantasy is. A lista folyamatosan frissül, külön kérésre természetesen más féle - fajta műfajokat is hozok. Ha érdekel titeket valamelyik könyv, bátran jelezzetek, és az adott könyv alá odateszem a magyar fülszöveget is. Jó szórakozást!
2018. jan. 30.


Katie McGarry: Say You'll Remember Me


Tükörford.: "Mondd, Hogy Emlékezni Fogsz Rám"
"When Drix was convicted of a crime--one he didn't commit--he thought his life was over. But opportunity came with the new Second Chance Program, the governor's newest pet project to get delinquents off the streets, rehabilitated and back into society. Drix knows this is his chance to get his life back on track, even if it means being paraded in front of reporters for a while.

Elle knows she lives a life of privilege. As the governor's daughter, she can open doors with her name alone. But the expectations and pressure to be someone she isn't may be too much to handle. She wants to follow her own path, whatever that means.

When Drix and Elle meet, their connection is immediate, but so are their problems. Drix is not the type of boy Elle's parents have in mind for her, and Elle is not the kind of girl who can understand Drix's messy life.
But sometimes love can breach all barriers.

Fighting against a society that can't imagine them together, Drix and Elle must push themselves--Drix to confront the truth of the robbery, and Elle to assert her independence--and each other to finally get what they deserve."
2018. jan. 8.
Siobhan Davis: Inseparable
Tükörford.: "Összeférhetetlenek"
"A childhood promise. An unbreakable bond. One tragic event that shatters everything.
It all started with the boys next door…
Devin and Ayden were my best friends. We were practically joined at the hip since age two. When we were kids, we thought we were invincible, inseparable, that nothing or no one could come between us. But we were wrong. Everything turned to crap our senior year of high school.
Devin was turning into a clone of his deadbeat lowlife father—fighting, getting wasted, and screwing his way through every girl in town. I'd been hiding a secret crush on him for years. Afraid to tell him how I felt in case I ruined everything. So, I kept quiet and slowly watched him self-destruct with a constant ache in my heart.
Where Devin was all brooding darkness, Ayden was the shining light. Our star quarterback with the bright future whom everyone loved. But something wasn't right. He was so guarded, and he wouldn't let me in.
When Devin publicly shamed me, Ayden took my side, and our awesome-threesome bond was severed. The split was devastating. The heartbreak inevitable.
Ayden and I moved on with our lives, but the pain never lessened, and Devin was never far from our thoughts. Until it all came to a head in college, and one eventful night changed everything. Now, I've lost the two people who matter more to me than life itself. Nothing will ever be the same again."
2018. jan. 23.


K.A. Tucker: Keep Her Safe


Tükörford.: "Tartsd Őt Biztonságban"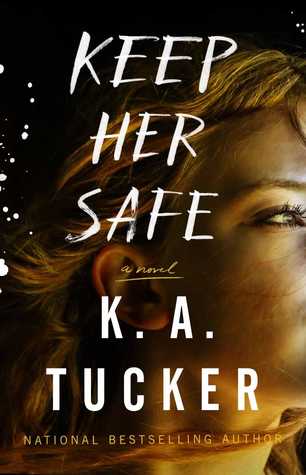 "Noah Marshall has known a privileged and comfortable life thanks to his mother, the highly decorated chief of the Austin Police Department. But all that changes the night she reveals a skeleton that's been rattling in her closet for years, and succumbs to the guilt of destroying an innocent family's life. Reeling with grief, Noah is forced to carry the burden of this shocking secret.
Gracie Richards wasn't born in a trailer park, but after fourteen years of learning how to survive in The Hollow, it's all she knows anymore. At least here people don't care that her dad was a corrupt Austin cop, murdered in a drug deal gone wrong. Here, she and her mother are just another family struggling to survive...until a man who clearly doesn't belong shows up on her doorstep.
Despite their differences, Noah and Gracie are searching for answers to the same questions, and together, they set out to uncover the truth about the Austin Police Department's dark and messy past. But the scandal that emerges is bigger than they bargained for, and goes far higher up than they ever imagined."
2018. jan. 30.


J.L. Armentrout: Moonlight Sins


Tükörford.: "Holdfényes Bűnök"
"New York Times bestselling author Jennifer L. Armentrout delivers the unforgettable story of a woman whose new life has just begun—but may end in murder...


Julia Hughes has always played it safe until she learned a very painful lesson. Now Julia's starting over with a job in the Louisiana bayou—and a scorching encounter with a stranger, only to discover he's Lucian de Vincent... her new employer. The de Vincent brothers share a massive fortune and a dark reputation. Julia cares for their troubled sister, but a menacing presence in the mansion—and the ever-present temptation of Lucian—prove dangerously distracting.

Lucian's grandmother claimed de Vincent men fall in love once—and hard. Apparently, it's Lucian's turn. Julia's compassionate care of his twin makes Lucian want to lay himself bare. But some secrets are better for Julia not to know.

The recent "suicide" of Lucian's father is the latest in a string of deaths on the estate. Someone is eliminating the de Vincents. And the best way to get to Lucian may be through Julia..."
2018. jan. 22.


Tijan: Ryan's Bed


Tükörford.: Ryan Ágya
"I crawled into Ryan Jensen's bed that first night by accident. I barely knew him. I thought it was his sister's bed—her room. It took seconds to realize my error, and I should've left...

I didn't. I didn't jump out. I didn't get embarrassed. I relaxed. And that night, in that moment, it was the only thing I craved. I asked to stay. He let me, and I slept.

The truth? I never wanted to leave his bed. If I could've stayed forever, I would have. He became my sanctuary. Because—four hours earlier—my twin sister killed herself."
2018. jan. 9.


Lianne Oelke: Nice Try, Jane Sinner


Tükörford.: "Szép Próbálkozás, Jane Sinner"
"
The only thing 17-year-old Jane Sinner hates more than failure is pity. After a personal crisis and her subsequent expulsion from high school, she's going nowhere fast. Jane's well-meaning parents push her to attend a high school completion program at the nearby Elbow River Community College, and she agrees, on one condition: she gets to move out.

Jane tackles her housing problem by signing up for House of Orange, a student-run reality show that is basically Big Brother, but for Elbow River Students. Living away from home, the chance to win a car (used, but whatever), and a campus full of people who don't know what she did in high school… what more could she want? Okay, maybe a family that understands why she'd rather turn to Freud than Jesus to make sense of her life, but she'll settle for fifteen minutes in the proverbial spotlight.

As House of Orange grows from a low-budget web series to a local TV show with fans and shoddy T-shirts, Jane finally has the chance to let her cynical, competitive nature thrive. She'll use her growing fan base, and whatever Intro to Psychology can teach her, to prove to the world—or at least viewers of substandard TV—that she has what it takes to win."
2018. Január 30.


L.H.Cosway: A Crack in Everything


Tükörford.: "Minden Törött Dolog"
Everglow következő tétele a "Must - Have" listán
"
Life used to be simple. I was a city girl with humble dreams. Then Dylan O'Dea broke into my flat, held me against the wall and told me to stay quiet. It was like in the movies, where the universe zeros in on a single scene. I looked into his eyes and knew he was going to change me.

For Dylan, the sky was always falling. He showed me how our world is a contradiction of beauty and ugliness. How we choose to ignore the awful and gloss over it with the palatable. How you need just a tiny drop of something unsavoury to create every great scent.

Pretty deep for a pair of teenagers living in a block of council flats in inner city Dublin, right? Probably. But we weren't typical. We both had our obsessions. Mine was growing things, Dylan's was scent. He taught me how to use my nose, and I introduced him to the magic of flowers.

I had no idea that one day he'd build an empire from what we started together. But before that, there was love and happiness, tragedy and epic heartbreak...my name is Evelyn Flynn and I'm going to tell you about the crack in everything.
"
2018. jan. 30.
A.C.Gaughen: Reign of the Earth (Elementae 1.)
Tükörford.: "A Föld Uralkodója"
"Shalia is a proud daughter of the desert, but after years of devastating war with the adjoining kingdom, her people are desperate for peace. Willing to trade her freedom to ensure the safety of her family, Shalia becomes Queen of the Bonelands.

But she soon learns that her husband, Calix, is motivated only by his desire to exterminate the Elementae—mystical people who can control earth, wind, air, and fire. Even more unsettling are Shalia's feelings for her husband's brother, which unleash a power over the earth she never knew she possessed—a power that could get her killed. As rumors of a rebellion against Calix spread, Shalia must choose between the last chance for peace and her own future as an Elementae."
2018. jan. 16.
Samira Ahmed: Love, Hate & Other Filters
Tükörford.: "Szerelem, Gyűlölet, és más Filterek"
"American-born seventeen-year-old Maya Aziz is torn between worlds. There's the proper one her parents expect for their good Indian daughter: attending a college close to their suburban Chicago home, and being paired off with an older Muslim boy her mom deems "suitable." And then there is the world of her dreams: going to film school and living in New York City—and maybe (just maybe) pursuing a boy she's known from afar since grade school, a boy who's finally falling into her orbit at school.

There's also the real world, beyond Maya's control. In the aftermath of a horrific crime perpetrated hundreds of miles away, her life is turned upside down. The community she's known since birth becomes unrecognizable; neighbors and classmates alike are consumed with fear, bigotry, and hatred. Ultimately, Maya must find the strength within to determine where she truly belongs."
2018. jan. 2.


Rachel L. Solomon: You'll Miss Me When I'm Gone


Tükörford.: "Hiányolni fogsz, amikor Eltűnök"
"Eighteen-year-old twins Adina and Tovah have little in common besides their ambitious nature. Viola prodigy Adina yearns to become a soloist—and to convince her music teacher he wants her the way she wants him. Overachiever Tovah awaits her acceptance to Johns Hopkins, the first step on her path toward med school and a career as a surgeon.

But one thing could wreck their carefully planned futures: a genetic test for Huntington's, a rare degenerative disease that slowly steals control of the body and mind. It's turned their Israeli mother into a near stranger and fractured the sisters' own bond in ways they'll never admit. While Tovah finds comfort in their Jewish religion, Adina rebels against its rules.

When the results come in, one twin tests negative for Huntington's. The other tests positive. These opposite outcomes push them farther apart as they wrestle with guilt, betrayal, and the unexpected thrill of first love. How can they repair their relationship, and is it even worth saving?

From debut author Rachel Lynn Solomon comes a luminous, heartbreaking tale of life, death, and the fragile bond between sisters."
2018. jan. 2.


Holly Black: The Cruel Prince (Folk of the Air 1.)


Tükörford.: "A Kegyetlen Herceg"
"Of course I want to be like them. They're beautiful as blades forged in some divine fire. They will live forever. And Cardan is even more beautiful than the rest. I hate him more than all the others. I hate him so much that sometimes when I look at him, I can hardly breathe.

Jude was seven years old when her parents were murdered and she and her two sisters were stolen away to live in the treacherous High Court of Faerie. Ten years later, Jude wants nothing more than to belong there, despite her mortality. But many of the fey despise humans. Especially Prince Cardan, the youngest and wickedest son of the High King.

To win a place at the Court, she must defy him–and face the consequences.

In doing so, she becomes embroiled in palace intrigues and deceptions, discovering her own capacity for bloodshed. But as civil war threatens to drown the Courts of Faerie in violence, Jude will need to risk her life in a dangerous alliance to save her sisters, and Faerie itself."
2018. jan. 4.


Anna Day: The Fandom


Tükörford.: Magyarul is van ilyen szó, de nem emlékszem rá. Valaki segítsen ki. :D
"
Cosplay ready, Violet and her friends are at Comic-Con. They can't wait to meet the fandom of mega movie, The Gallows Dance. What they're not expecting is to be catapulted by freak accident into their favourite world – for real. Fuelled by love, guilt and fear, can the friends put the plot back on track and get out? The fate of the story is in their hands ...

A fast-paced, genre-flipping YA fantasy adventure from a brand new author, writing in homage to the best YA fiction."
2018. jan. 9.


Chloe Benjamin: The Immortalists


Tükörford.: "Halhatatlanok"
"If you were told the date of your death, how would it shape your present?"
"It's 1969 in New York City's Lower East Side, and word has spread of the arrival of a mystical woman, a traveling psychic who claims to be able to tell anyone the day they will die. The Gold children—four adolescents on the cusp of self-awareness—sneak out to hear their fortunes.

Their prophecies inform their next five decades. Golden-boy Simon escapes to the West Coast, searching for love in '80s San Francisco; dreamy Klara becomes a Las Vegas magician, obsessed with blurring reality and fantasy; eldest son Daniel seeks security as an army doctor post-9/11, hoping to control fate; and bookish Varya throws herself into longevity research, where she tests the boundary between science and immortality."
2018. márc. 6.


Audrey Grey & Krystal Wade: Our Dark Stars


Tükörford.: "A Mi Sötét Csillagunk"
"While she sleeps, the whole universe changes. Princess Talia Starchaser has it all. Wealth. Status. Adoring citizens. But on the eve of her eighteenth birthday, she's forced to publicly betray her best friend, a companion mock she's had since birth, setting events into motion that lead to the destruction of the humans, and the princess floating through space, a remnant of a time when humans ruled over droids.

One hundred years later, half-mock captain Will Perrault and his ragtag crew discover a device floating in space. When a very human Talia emerges from its depths, Will suspects she's the key to buying his way back into the regiment he once commanded against the last remaining rebel humans—and the ruling mock queen's good graces.

Both Talia and Will would rather get space-tossed than trust one another, but with the queen's forces chasing them across the galaxy and the fate of both worlds hanging in the balance, they'll forge the unlikeliest of alliances to survive."
2018. jan. 16.


C.V.Wyk: Blood and Sand


Tükörford.: "Vér és Homok"
FORGED IN BATTLE...
FROM THE DUST OF THE ARENA...
A LEGEND WILL RISE.

The action-packed tale of a 17-year-old warrior princess and a handsome gladiator who dared take on the Roman Republic―and gave rise to the legend of Spartacus...

Roma Victrix. The Republic of Rome is on a relentless march to create an empire―an empire built on the backs of the conquered, brought back to Rome as slaves. Attia was once destined to rule as the queen and swordmaiden of Thrace, the greatest warrior kingdom the world had seen since Sparta. Now she is a slave, given to Xanthus, the Champion of Rome, as a sign of his master's favor. Enslaved as a child, Xanthus is the preeminent gladiator of his generation.

Against all odds, Attia and Xanthus form a tentative bond. A bond that will spark a rebellion. A rebellion that threatens to bring the Roman Republic to its end―and gives rise to the legend of Spartacus..."